Parenting Education and Support Programs in Columbia County
Columbia County CARES (Creating a Responsive and Effective System for Promoting and Protecting our Children's Wellbeing) is a
co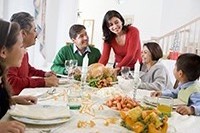 alition of organizations and individuals working together to promote the wellbeing of children, youth and families in the county. We have created this list of Parenting Education and Support Programs in Columbia County based on what is known to us and we are eager to expand the list. Please contact Extension to share information about parenting education and support programs in Columbia County or to learn more about Columbia County CARES.
Click on this link for a list of resources:  Parenting Education and Support in Columbia County (PDF, 4 pages)
Parenting Newsletter
Becoming a parent is an exciting change in your life. But it can be a stressful and trying time too. The parenting newsletters help you find out from child development experts how your baby changes during each month of the first year.  Parents may receive the Just in Time Parenting newsletter free each month.  Parenting newsletters are available online for years two through five:  http://www.jitp.extension.org/
These newsletters are age-paced. For example, the parents of a 24-month-old toddler receive information on the physical, intellectual, and social skills being developed by children this exact age, and learn way to promote their child's development. Get the latest information on child development, nutrition, health, safety, child care, changes in family life, and much more.  The newsletters include articles on if baby is premature, routines for baby, and separation distress, as well as updates on feeding, where baby sleeps, immunizations, and more.
For more information, contact Amanda Coorough at the Extension office, 608-742-9684, or e-mail amanda.coorough@wisc.edu.
Extension Columbia County
112 E. Edgewater Street, Room 212
Portage, WI 53901
608-742-9684