Parenting Education and Support Programs in Columbia County
Columbia County CARES (Creating a Responsive and Effective System for Promoting and Protecting our Children's Wellbeing) is a
co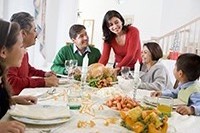 alition of organizations and individuals working together to promote the wellbeing of children, youth and families in the county. We have created this list of Parenting Education and Support Programs in Columbia County based on what is known to us and we are eager to expand the list. Please contact Extension to share information about parenting education and support programs in Columbia County or to learn more about Columbia County CARES.
Click on this link for a list of resources:  Parenting Education and Support in Columbia County (PDF, 4 pages)
Parents Forever: Co-Parenting Classes
Parents Forever will help you understand the role self-care plays in supporting transition, how to build better parent-child relationships with your kids to help them through transition, and then you'll explore co-parenting and skills that will successfully form a parenting partnership with your child(ren)'s other parent.
Participants must complete the 4 hour class to complete certification.  Classes are offered in-person or online.
Columbia County Extension office has the program materials available for pick-up. Columbia County Extension office & Extension Sauk County charge $28.00 for the program and materials. Payment options are available, no questions asked. Please speak to Amanda Coorough, Human Development & Relationships Educator, (608) 963-1040 or amanda.coorough@wisc.edu
Online Class Schedule
*Please indicate at the time of registration whether you need in-person or online
No classes will be offered in December
January 18 & 20, 5:30 – 7:30 p.m. (4 hr class, 2 – part series)
February 15 & 17, 5:30 – 7:30 p.m. (4 hr class, 2 – part series)
March 22 & 24, 5:30 – 7:30 p.m. (4 hr class, 2 – part series)
April 19 & 21, 5:30 – 7:30 p.m. (4 hr class, 2 – part series)
May 17 & 19, 5:30 – 7:30 p.m. (4 hr class, 2 – part series)
No classes will be offered in June, July, August
Parents Forever Brochure: 2021 Parents Forever Brochure
Registration is required: https://go.wisc.edu/789325
Extension Columbia County
112 E. Edgewater St., Rm. 212
Portage, WI 53901
608-742-9680