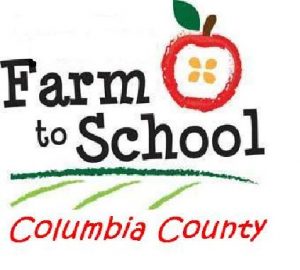 …reconnecting students and school districts with local food growers & producers in the classroom, on the farm and in the cafeteria.
What is Farm to School?
Farm to School is a program that connects schools and local farms with the objectives of serving healthy meals in school cafeterias, improving student nutrition, providing agriculture, health and nutrition education opportunities and supporting local and regional farmers.  (National Farm to School Network, 2012).
In August 2012, the Columbia County Local Foods Collaboration (CCLFC) announced $160,000 Transform Wisconsin Grant to promote access to healthy food in Columbia County through a Farm to School Initiative.  The grant will invest in bringing local food to the WI Dells School District, Rio School District and St. Mary's School in Portage over the next 2 1/2 years.
In addition to supplying locally grown and produced foods in schools, the Columbia County Farm to School program aims to offer nutrition and agriculture education through taste tests, farm tours and by promoting school gardens.

Why Farm to School?
1/3 of U.S. children are obese or overweight.  In 2012 Columbia County had an adult obesity rate of 31%.  In 2008 the obesity rate among low income preschoolers was 14%.  Adult diabetes prevalence in the county was 8%.
The grant will increase access to affordable fresh food.  currently Columbia County's limited access to healthy foods is in the 15th percentile.  (WI avg: 6%)
The typical food item in the U.S. travels 1,500 to 2,400 miles from farm to plate.
For every dollar spent on local foods in schools, one to three dollars circulate in the local economy.
Columbia County is blessed with a diverse community of small farms and food producers – 4,478 vegetable acres & 42 orchard acres.

Benefits of Farm to School
The major aims of the Farm to School approach are healthy children, healthy farms and healthy communities.  Farm to School programs are based on the premise that students will choose healthier foods, including more fruits and vegetables, if products are fresh, locally grown and picked at the peak of their flavor and if those choices are reinforced with educational activities.
The choice of healthier options in the cafeteria through farm to School meals results in consumption of more fruits and vegetables with an average increase of one serving per day, including at home.  Schools report a 3 to 16 percent increase in school meal participation.
Farm to School programs provide benefits to the entire community:  children, farmers, food service staff, parents and teachers.
Farm to School (F2S)
 Farm to School program brings:
Fresh, local, sustainably produced food to children
Establishes reliable markets for local farms using sustainable practices\
Provides hands-on education in classrooms
Farm to School Resources (F2S)
For additional information about Columbia County Farm to School Program, contact:
Kathleen Haas
Community Development Educator
112 E. Edgewater Street, Portage, WI 53901
608-742-9683