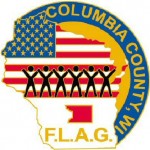 (Last updated 09-07-2021)
Interested in the 2021 – 2022 F.L.A.G. Program?
The 2021-2022 F.L.A.G. Nomination Form  (due 10/8/21)
Why is this important?
Understanding local government and being civically engaged is important for the functioning of a democratic society and contributes to personal development.  Programs like F.L.A.G. provide an opportunity for students to participate in local government and civic engagement activities.  F.L.A.G. members improve skills that enable civic engagement such as public speaking, leadership, teamwork and organizational skills.  Research shows that civically engaged youth have improved social and school performance skills, greater self-confidence, reinforced ties with family and peers, reinforced moral values and integrity and compassion for others.
What we do:
Columbia County Extension Educators engage high school students as they explore the role of local government and decision-making processes at the county level.  Students interact with elected officials, department representatives and community members in the seven experiential F.L.A.G. sessions.  They acquire valuable leadership skills and connections, learn to voice their opinions, and understand they have the ability to identify important issues and work within government and systems to address those issues and concerns.
How do we know it works?
An increase in 21st century life skills is self-reported annually with the greatest increase reported in:
the ability to be a contributing team member
the ability to act in a more professional manner
an increase in work ethic, and
an increase in critical thinking and communication skills.
Students report a significant increase in belief that
they can make a difference in their community.
being concerned about state and local issues is an important responsibility for everybody.
being actively involved in community issues is their responsibility.
F.L.A.G. Students 2020-2021 Testimonial Videos:
Previous participants in the F.L.A.G. program have recorded some highlights of their experience in the F.L.A.G. program. See what these students have said in their testimonials: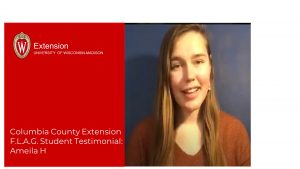 Ameila H Testimonial (YouTube Video, 23 seconds)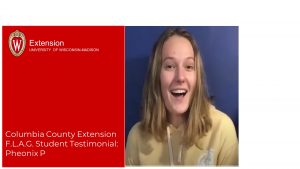 Pheonix P Testimonial (YouTube Video, 24 seconds)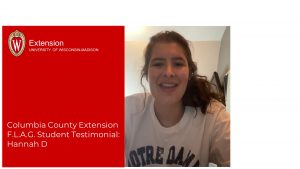 Hannah D Testimonial (YouTube Video, 6:32 minutes)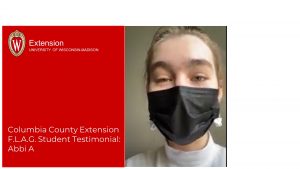 Abbi A Testimonial  (YouTube Video, 29 seconds)
Columbia County Extension Impact by the Numbers:
Since 2009, six high schools in Columbia County have nominated 80 juniors to participate in the program.
Sixteen senior "F.L.A.G. Coaches" have returned for a second year to provide program leadership and continue their F.L.A.G. journey.
Public Value:
A positive correlation exists between civic engagement and academic success.
Civically engaged young people are more likely to meet personal and social challenges and to control their own lives.
As a result of learning how decisions impact communities, youth realize they have the ability to address community challenges.
For more information about F.L.A.G., please contact:
Communities Extension Educator:  Supporting Vibrant and Livable Communities
Kathleen Haas, 608-742-9683, kathleen.haas@wisc.edu