Free Pressure Canner Testing
Don't forget to have the dial gauge on your pressure canner tested. It is recommended to have this gauge tested every year. It's also a good idea to review the publication "Using and Caring for a Pressure Canner" publication by UW-Extension.
The Columbia County UW-Extension offers pressure canner testing free of charge. Please bring your lid to our office between the hours of 8 a.m.-4:30 p.m., Monday through Friday. We can usually conduct the test while you wait.
UW-Extension Wisconsin Safe Food Preservation Publications
The following publications are available online at http://learningstore.uwex.edu (single copies can be downloaded free of charge) or from your County Extension Family Living Educator. You can also purchase them from The Learning Store, 432 N. Lake St., Madison, WI 53706. Phone: 1-877-947-7827; e-mail: pubs@uwex.edu.
Canning Fruits Safely (B0430) – $3.00
Canning Meat, Wild Game, Poultry and Fish Safely (B3345) – $5.00
Canning Salsa Safely (B3570) – $2.50
Canning Vegetables Safely (B1159) – $2.00
Freezing Fruits and Vegetables (B3278) – $2.75
Guidelines for Making Safe Jerky at Home – available online: www.foodsafety.wisc.edu
Homemade Pickles and Relishes (B2267) – $4.10
Make Your Own Sauerkraut (B2087) – available for download from internet only
Making Jams, Jellies and Fruit Preserves (B2909) – $5.00
Tomatoes Tart and Tasty (B2605) – $3.00
Wisconsin's Wild Game: Enjoying the Harvest – available online: www.foodsafety.wisc.edu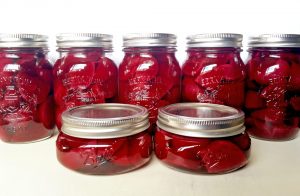 So Easy to Preserve (copyright 2005); price: $18.00. This book comes out of the University of Georgia-Cooperative Extension: http://setp.uga.edu/. Address: Office of Communications, 117 Hoke Smith Annex, Cooperative Extension Service, The University of Georgia, Athens, GA 30602-1456; phone: 706-542-2657; e-mail: cespub@uga.edu. Many approved recipes are available free online from the University of Georgia's National Center for Home Food Preservation: http://nchfp.uga.edu.
Ball Complete Book of Home Preserving, edited by Judi Kingry and Lauren Devine (copyright 2006); price retails for $22.95, but may be found cheaper online. There is not a single vendor for this book. You can order online by searching on the title, or order through your local bookstore.
Ball-Kerr also has a helpful website: http://www.freshpreserving.com
Safe & Healthy: Preserving Food at Home
National Center for Home Food Preservation: http://nchfp.uga.edu/
"Safe and Healthy: Preserving Food at Home" (http://fyi.uwex.edu/safepreserving/) is a new website that covers topics ranging from safe canning of tomatoes and other garden produce to how to respond to a food recall. The information, prepared by UW-Extension food scientist Barbara Ingham, features new posts and tips almost daily.
Food Safety Links
Be Food Safe: http://fightbac.org/
U.S. Government Food Safety Information: http://www.foodsafety.gov
USDA Food Safety Information: http://www.fsis.usda.gov/wps/portal/fsis/topics/food-safety-education
Centers for Disease Control and Prevention: https://www.cdc.gov/
USDA Meat and Poultry Hotline: 888-674-6854; FDA Food Information Line: 888-723-3366