(last updated 02/19/21)
Proceeds from the following items are used to offset costs to the 4-H program and 4-H'ers for various projects/items throughout the year!
2021 COLUMBIA COUNTY PLAT BOOK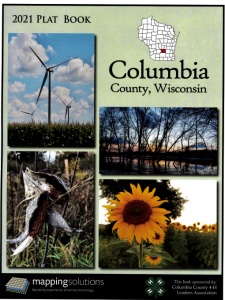 $35.00 per book, plus an additional $3.00 per book for shipping.   Please mail a check for $38.00 made payable to Columbia County 4-H Leader's Association to:  Sarah Millard, UW-Extension, 112 E. Edgewater St, Room 212, Portage, WI 53901.  If you are a governmental agency, you may send an email to Sarah (link below), request the plat books and we will forward to you with an invoice.  Thank you.
To find out more information about purchasing a book, please contact Sarah at 608-742-9688 or email at mailto:Sarah.MIllard@wisc.edu
This book includes aerial maps.
Several different products that bear the specially marked Milk Moola caps and bag tops can be redeemed for funds to support the Columbia County 4-H program. To find out what Nature's Touch products are eligible, go to: Milk Moola Got Questions? and look under

"

What Nature's Touch Products are eligible?"

.
Please turn in the following to the Columbia County UW-Extension Office to help with this fundraiser:
5¢ each:  cap or bag top collected from Nature's Touch™ products
5¢ each:  UPC bar code from any 16 ounce or larger Nature's Touch™ Ice Cream Product
10¢ each:  Glazers®  Half-Dozen tan price oval
Any other product item that falls under the scope of the fundraiser
920-568-5600

Columbia County NASCO Store


Our No. 9810025
Columbia County 4-H will receive 5% rebates on all online purchases from Nasco Farm & Ranch, Nasco Showing & Grooming, and Nasco Agricultural Sciences catalogs.  You can still pick up your online purchases at the Nasco store, if you prefer.   When you make your purchases, put in No. 9810025 at the checkout.  The funds are paid to Columbia County 4-H at year-end.