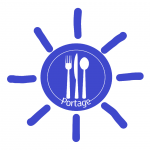 "Our goal is to have no child go hungry." The Portage Summer Lunch Program (PSLP) ensures that youth continue to receive nutritious lunches when school is not in session. The PSLP provides free lunches to kids and teens throughout the summer.  It is funded by the United States Department of Agriculture (USDA) and implemented by the Wisconsin Dells School District, local partners, and community volunteers. New this year, youth utilizing the sites will also receive a weekend pack of food on Fridays with their lunch. The weekend packs are made possible by the generous donations received from the community.
What is it? (for all kids & teens age 18 and under)
Free lunch based on USDA nutrition guidelines
No application or proof of income needed
Lunch may be taken off site and eaten at home
LOCATIONS & TIMES
Monday – Friday      June 7th through August 31st      
* July 5th No lunch served at any sites
Splash Pad @ Goodyear Park,  920 De Witt St. 11:10 a.m. – 11:35 a.m.
Portage Public Library, 253 West Edgewater St.  11:15 a.m. – 11:45 a.m.
Lincoln Park, 404 East Carroll St.  11:45 a.m. – 12:05 p.m.
School Rd, Concession Stand area near the Softball and Baseball fields   11:30 a.m. – 12:00 p.m.
Sanborn Park, 922 W. Franklin St.  12:15 p.m. – 12:35 p.m.
For more information contact:
Pastor Dave Hankins, Portage Presbyterian Church – 608.742.6006
Caitlin Richardson, Columbia County Extension – 608.742.9680
Sponsored by:  Wisconsin Dells School District
"This event is not organized by UW-Madison Extension.  Participants are encouraged to check with event organizers for details on safety protocols."